Things to do in Chiang Rai
Chiang Rai doesn't have a defined city center, so most of the main sites are spread across the region. Because of this, it's best to use taxis or rent a motorbike to discover all the top things to do in Chiang Rai.
The city itself is also a great jumping-off point to visit nearby national parks, Doi Tung Mountain, or the Golden Triangle (where Thailand, Laos, and Myanmar meet at the Mekong River). Alternatively, it's a great last stop in Thailand before heading to Laos, as there are plenty of connections.
1. Wat Huay Pla Klang ('Big Buddha') 
This dazzling white statue is often mistaken for a big Buddha. However, it is actually Guanyin, the smiling 'Goddess of Mercy', who blesses health and wealth on visitors. The statue is part of a larger Buddhist temple complex located on a hill about 30 minutes outside of the center of Chiang Rai. Because of its elevation, the site is home to incredible panoramic views of the lush countryside and mountains. Plus, it has a great perspective over the city, helping you to get your bearings in the area. 
Tip: This is a religious site, so please dress respectfully (covering knees and shoulders), and remove your shoes before entering the temple.
Spend an hour or two here at sunset, when lovely colors light up the statue and the valleys below. Wander around the peaceful complex, admiring the unique mixture of Thai Lanna and Chinese style architecture, including a beautiful pair of Chinese dragons that guard the entrance to the stunning gold pagoda (which looks even more amazing after night falls when it's lit up).
No time to read now?
No worries! Save on Pinterest to read it later.
Save to Pinterest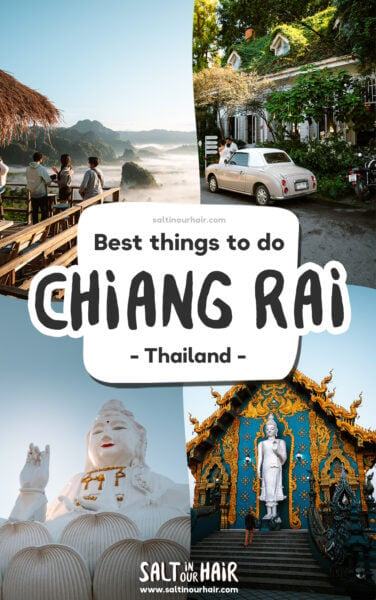 You can go to the top of both the Goddess statue and the gold pagoda. Both of these structures, as well as having lovely symbolic paintings and sculptures inside, offer the best views!
Opening Times & Entrance Fee: Open from 7 AM – 9:30 PM. Free entry, but donations are welcome. It costs 40 THB (~ 1.10 USD) to take the elevator to the top of the Goddess statue.
2. Baan Dam Museum
Also known as the Black House Museum, this group of over 40 dark wooden structures, set amongst peaceful gardens, was once the former home and studio of internationally renowned Thai artist Thawan Duchanee. The late artist was inspired by the themes of life, death, and nature. As such, most of the artwork in the museum is made from animal bones and skins, making for a spooky experience! 
Tip: QR codes around the buildings can be scanned on your phone, animating the art. Very innovative!
The complex of black buildings includes a stunning temple with beautiful gold detailing, outdoor covered seating areas, and small wooden huts. The interior of the museum has a mysterious and atmospheric feel, created by dark decor, demonic artwork, and macabre furniture made from skulls, antlers, and animal skins. Strangely, the outside is an entirely different experience, with serene gardens filled with vibrant flowers.
Visiting Baan Dam Museum
The museum is a 20-minute drive from the center of Chiang Rai, so it's best to hail a tuk-tuk in town or rent a motorcycle. The museum is open every day from 9 AM – 5 PM and costs 80 THB (~ 2.50 USD) to enter.
3. Blue Temple 
Discover the famous blue temple in Chiang Rai, a powerful powder blue building with the most intricate silver and gold detailing. Unusually, for most religious buildings, the temple was actually only completed in recent years (2016) and is a stunning example of contemporary Thai architecture.
The incredibly bright blue color symbolizes purity, wisdom, and lack of materialism and is home to many unique sculptures both externally and internally. Inside, you can also find the wheel of life mural, a Buddhist representation of the cycle of life.   
Did you know? The Blue temple, called Wat Rong Suea Ten, is also known as the Temple of the Dancing Tiger. This is because tigers were once found roaming free here centuries ago, on the site of the original ancient temple. This is why you'll also see Tigers represented in the sculptures around the complex.
Visiting the Blue Temple
The Blue Temple is open 8 AM – 5 PM and is free to enter (although donations are welcome). The temple is relatively small, so allow for 30 minutes to 1 hour. We also recommend visiting early in the morning to avoid crowds and see the temple at its quietest.
4. Chivit Thamma
After visiting the Blue Temple, head to Chivit Thamma Da Coffee House, which is located on the river nearby. This tree-house-like building was built over 100 years ago in the traditional Lanna style and is surrounded by serene gardens, beautiful trees, and plenty of green hanging plants. Plus, there's a terrace where you can sit outside in the sun and enjoy a delicious coffee or a bite to eat.
Getting there: Chivit Thamma is a 30-40 minute drive from the city center. Alternatively, it's a 5-minute walk from the blue temple.
5. White Temple 
The White Temple (Wat Rong Khun) is one of the most beautiful temples in Thailand, if not in Asia! This all-white temple is the most important and popular site in Chiang Rai and has a fascinating backstory.
It was decided to make the temple completely white (with none of the typical gold temple detailing) to symbolize heaven. All of the sculptures you'll find here represent life, death, and rebirth — important parts of the Buddhist cycle of life. 
As you reach the temple, you'll find a magnificent walkway bordered by snakelike sculptures, dragons, and elephant tusks. Most eerie is the Gate of Heaven, a fascinating sculpture depicting many hands reaching up from the ground.
Tip: Surprise yourself on your visit to the white temple by visiting the most beautiful bathroom in the region, home to the stunning golden toilets (a total contrast to the stark white of the rest of the temple).
How to Visit the White Temple in Chiang Rai
The White Temple is open every day from 8 AM – 6 PM. It costs 100 THB (~ 2.70 USD) to enter the temple (or it's free to see the outside). It is just a 20-30 minute drive from the center of Chiang Rai.
6. Khun Korn Waterfall 
Discover the highest waterfall in Chiang Rai! Khun Korn waterfall stands at 70 meters and is found deep in the luscious Namtok Khun Kon Forest Park. Discover the powerful torrent hidden behind a thick mist of water vapor, making for a refreshing experience!
You can find the beautiful falls at the end of a long bamboo walkway that runs through lush jungle, native plants, and flowers. The hike isn't difficult; it takes around 30 minutes to cross from the parking lot.
Unfortunately, you can't swim at the waterfall as it's located within this protected national park. However, the mist offers a cooling end to your hike. For the best view, head up to the viewing deck to see the huge falls from above. Alternatively, you can walk down to the river base to see it from another perspective.
After you've visited the falls, there are plenty of other great hikes within Namtok Khun Khon Forest Park. So, if you've got time on your trip, grab your hiking boots and explore the jungle-covered area. For us, this was one of the best things to do in Chiang Rai!
How to Get to Khun Korn Waterfall
From the center of Chiang Rai, it is approximately a 45-60 minute drive depending on traffic. Once you reach the parking lot, walk about 100 meters past the blocked-off road until you reach the start of the bamboo path. At the entrance, make sure to keep left by passing by a hut (don't turn right where you cross the bridge). From here, it is a 1.4 km hike to the waterfall.
Namtok Khun Kon Forest Park is open every day from 8 AM – 5 PM, and it's free to visit! Please note that sometimes, during the rainy season, the falls may be closed due to the heavy downfall of water. 
Tip: Bring plenty of water and snacks, as there are no food or drink vendors in the park.
7. Night Market 
Like many cities in Thailand, night markets are one of the most integral parts of local life! Visiting the Night Market on a Saturday is one of the best things to do in Chiang Rai, with its myriad of stalls that offer everything from cute handicrafts to mouth-watering street food.
There are multiple markets in Chiang Rai, so there's always an option. However, the Saturday night market, located in the heart of the city, is the most popular with locals. What makes this market even more special is the lack of tourists; it's a popular spot for locals to spend the evening with friends and family, eat dinner, listen to live music, and soak up the atmosphere of a Saturday night in the city.
Opening times and entry fee: The market opens at sunset (around 6 PM) and stays open until late. Make sure to bring some cash, as many of the vendors don't accept card payments.
8. Cafe Culture 
There is a surprising cafe culture in Chiang Rai, with loads of cute spots hidden all over the city. Northern Thailand is home to the best coffee plantations in the country, so like Chiang Mai and Pai, Chiang Rai has made the most of having fantastic locally sourced coffee.
Head to the river for loads of great cafes and nice views of the water. Here you'll find all kinds of eateries, from English-style cottages serving traditional dishes to modern establishments serving up international favorites. And all of them, of course, serve great coffee! Some of our favorites for a delicious brew are:
Chivit Thamma Da Coffee House
Doi Chang Coffee
Akha Ama Coffee
Ban Mai Chay Nam
Norn Nung Len Cafe
9. Chiang Rai Clock Tower 
This beautiful golden clock tower, built to commemorate the King's birthday, is the centerpiece of the city. Designed by the same person who created the White Temple, the clock tower acts as a roundabout, often surrounded by a sea of motorcycles and tuk-tuks.
Tip: Don't miss out on a visit to the clock tower at night when colorful lights illuminate the gold beautifully, and the colors change throughout the night. If you come here at 7 PM, 8 PM, or 9 PM, you'll even be able to see a dance performance featuring traditional Thai music.
10. Phayao Viewpoint (Phu Langka)
Discover some of the most incredible views in Chiang Rai at the Phayao Viewpoint! This large platform sits atop a high mountain ridge overlooking a stunningly beautiful valley. We'd recommend staying the night here if you can, so you can wake up to a truly spectacular sunrise, with panoramic views of the mountains and low-lying clouds below.
Tip: Make sure to bring layers with you, as it's slightly cooler up here in the mountains. You should also bring good footwear if you want to make the most of the beautiful hiking trails in the surrounding area.
Getting to Phayao Viewpoint
The 3-hour drive to the viewpoint is an experience in itself, taking you through beautiful rice paddies, verdant farm fields, and scenic roads. There are multiple routes, but the most direct takes just over 2 hours on the highway. However, traffic is much busier, so we recommend taking one of the alternatives. 
Leave in the morning to avoid the midday heat, and on the way, stop at great coffee spots like Magic Mountain Cafe, Route 1148 Cafe, Paragraph Cafe, Cafe'ine, and Small Frame Coffee House. Many of these have fantastic views, and it's a great place to meet locals, particularly as this route is popular with local Thai motorbikers. In fact, when we went in December 2022, only locals were driving this route, and they were so surprised to see us! 
Remember that not many people speak English. Because of this, it's best to download Google Translate Thai language offline. Although, typically, 4G connections do work in this area. 
Tip: If you visit 1148 Cafe, look out for our Salt in our Hair sticker!
Best Cafes and Restaurants in Chiang Rai
There are some fantastic restaurants in Chiang Rai, and the city's booming coffee culture means there is no shortage of cute cafes to discover. Head to the night markets for budget-friendly and delicious street food. Here you can try typical Northern Thai dishes, like Khao soi (spicy noodle soup) or Gaeng hang lay (aromatic curry), all made with fresh, locally-grown ingredients.
Here are some of our favorite places to eat in Chiang Rai:
Klean Cafe
Chivit Thamma
La Ola
Surf and Turf
The Hungry Nest
Tamachat Vegetarian
KUNDA Vegan Burger
Coffeenergy
Favola at Le Méridien
Melt In Your Mouth
Where to Stay in Chiang Rai
There are all types of accommodations in Chiang Rai, from budget-friendly hostels in the center to more scenic options along the river. Down by the riverside, you'll find more upmarket options, with some high-end resorts and boutique hotels. 
We stayed at Baan Ga-Cha Villa, which we would recommend for a bigger group. Although, renting a motorcycle is necessary as it's a little way out of the center. 
How to Visit Chiang Rai
Chiang Rai has an international airport that is easily accessible from other parts of Thailand, with daily flights from Bangkok. The airport is approximately 15-20 minutes from the city center (taxi = 200-300 THB). 
Find the best flights to Chiang Rai ✈️
Many people choose to visit on a tour from the popular destination of Chiang Mai, which is a 3-hour drive away. A tour from here includes your return transportation, a guide, and entry to all the most important sites in Chiang Rai.
Getting From Chiang Rai to Laos
Chiang Rai is also a popular place for people to start their trip to Laos or visit the Golden Triangle. You can find many tour companies offering these trips in the city center. To get to Laos, most people take a bus to Luang Prabang or Vientiane, which takes approximately 8-12 hours. There are daily services operating. Some people choose to arrange a private car instead, which, although more expensive, does offer more comfort. Alternatively, you can fly from Chiang Rai to Vientiane (several flights a day).
Getting Around Chiang Rai
Chiang Rai is a small city, and most places you are likely to visit, like the Night Bazaar and the Clock Tower, are within walking distance of each other. Renting a bicycle is also a good option if you like to get around faster and explore a little further outside of the center. However, if you want to see some of the temples further afield or head into the mountains, you will need to rent a car or scooter or take taxis. 
Grab
When driving with taxis, we mostly used the Grab taxi app to get around the city of Chiang Rai, as it's the most convenient, and you can see the price beforehand.
Tuk-Tuk or Songthaew
These are both cheap and convenient options for getting around and can be hailed from the street. Songthaews are the red shared taxis that are more affordable than tuk-tuks but can be a bit slower.
Rent a Car or Motorcycle
Renting your own transport means you can explore at your own pace and be flexible about which places you want to visit and when. We rented scooters from B-Rider, and another good one is Nice Rental.  
How Much Does Chiang Rai Cost?
Overall, Chiang Rai is a very affordable place to visit, particularly if you are staying in hostels and eating out at local restaurants or from local street food vendors. Since many of the region's main attractions are outside of the city center, the main thing you need to budget for is transport, whether that is taking tuk-tuks or songthaews or car rental.
Best Time to Visit Chiang Rai
The best time to visit Chiang Rai is during the cool season, from October to February. Bear in mind that this is also the high season, so although Chiang Rai is not the most touristy place in Thailand, it will be busier, and prices may be higher. The average annual temperature is around 25 °C (77 °F). However, it will be cooler the higher up into the mountains you go. 
From the end of December to mid-January, many beautiful pink flowers blossom on the trees, making for even more spectacular scenery. Head to Singha Park or Doi Tung Mountain for fantastic natural displays.
Did you know that …
When you purchase something through our links we earn a small fee. However, you still pay the same. Win-win!